Credit In The Straight World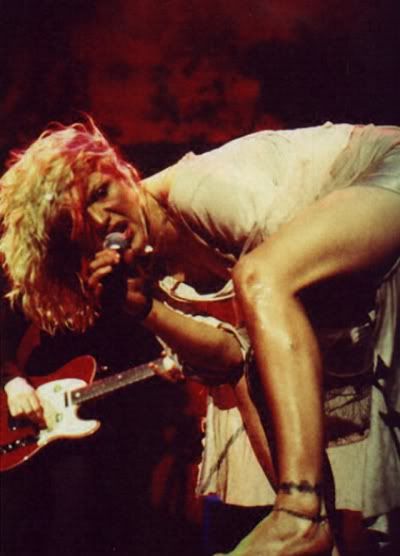 So our Ms. Love has been popping up here and there most recently. After winning custody of Frances, she's been spending more time writing more material for her upcoming album, due sometime at the end of this year. In her final appearance in court, Love stated that "I would just like to thank the court for allowing me these 90 days… [It] helped me deal with a very gnarly drug problem, which is behind me… I've just been playing guitar and taking care of my daughter," Love said in court. "I want to [take this opportunity] to let the community know that I'm doing great."

In an January interview with I-D magazine, Frances Bean revealed that she sees her mom in a positive light, regardless of all the bullshit. "I get to meet everyone I want and I get quite a lot of attention because of it," she said.
"But of course it hurts when you see a lot of lies about her in the tabloids and then you think, 'Well, it's not that cool to have a cool mom.' I don't like seeing my mom upset. No one does, right?"

Who is really hurting Frances the most?? Fucking Naysayers.

Earlier this year, collaborator and long time friend and ex, Billy Corgan moved into a wing of Courtney's new Beverly Hills mansion to help work on material for the new album. She and Frances share the other wing. C.Love is also working on tracks with ex-Alice in Chains guitarist Jerry Cantrell. Among the songs being worked on and refined are Sunset Marquis, Wildfire, The Depths of My Despair, Never Go Hungry Again, Bedroom Walls, Sad But True, How Dirty Girls Get Clean, For Once In Your Life and the anti-cocaine number, Loser Dust. Not to mention her autobiography coming out on Halloween, reminscent of Kurt Cobain's Journals, published a few years back.

Entitled:

Dirty Blonde
by Courtney Love

This girl can't wait.

Most recently, Courtney checked into a southern California spa to "fast" on a mostly liquid diet of lemon water, apple juice, zucchini, carrots, parsley juice, aloe vera, and castor oil, in order to be in ship-shape when she goes into the studio. "It's not for weight, it's for clarity," C.Love stated.

I dunno if our girl needs our saving so much. Seems to me like she's saving herself.
But that's just her Thing, isn't it?